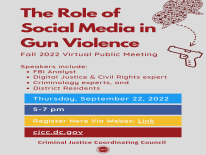 Last Date:
Details:
Join us for our Fall Public Meeting where we will be discussing the role of social media in local gun violence. Speakers include:
FBI Analyst
Digital Justice & Civil Rights expert
Criminology experts, and
District Residents
This meeting will be held virtually via WebEx. Please click here to register. You will receive a calendar invitation and reminder emails prior to the event.
CJCC is dedicated to ensuring the full participation of individuals with disabilities. The venue is virtual and interested members of the community can request reasonable accommodations, including translation services, prior to the event. If an accommodation is needed, please contact Tamara Vines at [email protected] or 202-442-9283. Requests should be made as soon as possible but at least five (5) business days prior to the scheduled event.
https://dcnet.webex.com/mw3300/mywebex/default.do?nomenu=true&siteurl=dcnet&service=6&rnd=0.9111676527872019&main_url=https%3A%2F%2Fdcnet.webex.com%2Fec3300%2Feventcenter%2Fevent%2FeventAction.do%3FtheAction%3Ddetail%26%26%26EMK%3D4832534b00000005f8e6202fe6567bd5c74e564788bf1b3ad48521dba91645195657590ea1142b74%26siteurl%3Ddcnet%26confViewID%3D237330399517221246%26encryptTicket%3DSDJTSwAAAAVky7melMfcjFMy8fipvRf-BJR6SjIxyKtwMgScPdRLzA2%26