Implications of Implementation: The Affordable Care Act and Criminal Justice Forum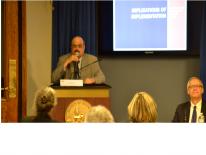 In July 2013, the Criminal Justice Coordinating Council's Substance Abuse Treatment and Mental Health Services Integration Taskforce (SATMHSIT) presented a forum that brought criminal justice and healthcare stakeholders together to share general information about the Affordable Care Act (the "ACA"), highlight the changes that had taken and would take place in light of the ACA, and explore the implications of the ACA for those involved in the criminal justice system.
Towards, that end, the SATMHSIT has partnered with the Public Welfare Foundation and the Legal Action Center to present this follow up to the July forum, which will focus on strategies for bridging healthcare gaps to ensure continuous healthcare for the criminal justice-involved population. National and local experts will discuss best practices, strategies, enrollment, and a breakdown of the numbers.