4th Annual Juvenile Justice Summit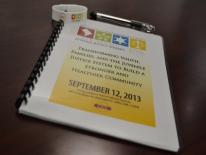 The CJCC, along with juvenile justice stakeholders, staff working with system-involved youth, community-based organizations, parent and youth leaders, hosted the fourth annual Juvenile Justice Summit: Transforming Youth, Families, and the Juvenile Justice System to Build a Stronger and Healthier Community. This juvenile justice summit attracted over 200 participants and for the first time in its history included an all day Youth Leadership Track. Youth participants were informed of the structures and processes of political advocacy, message development and delivery as well as instructed on how to develop youth leadership skills.
Other sessions during the Summit explored the prevalence of trauma among youth and trauma informed care, juvenile justice related legislation such as the JJDP Act of 2002 and the Attendance Accountability Act of 2013, family engagement for court involved youth, and the state of juvenile justice in the District. These sessions highlight critical issues currently affecting District youth, while also providing a forum for collaborative resolutions.